Following is a pictorial description of how to install MIDI Yoke for Windows 2000. The red ovals indicate settings and actions.
1) The initial screen
2) Choose Add
3) The above screen is displayed while searching...
4) Choose Add a new device...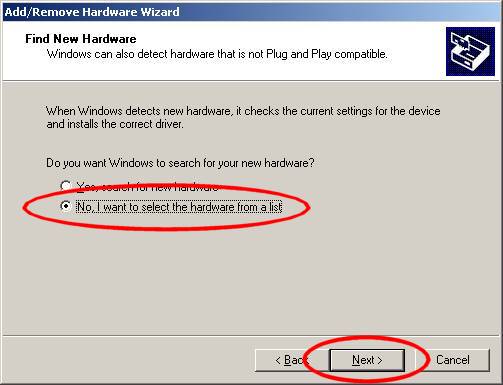 5) Choose to select the hardware from a list...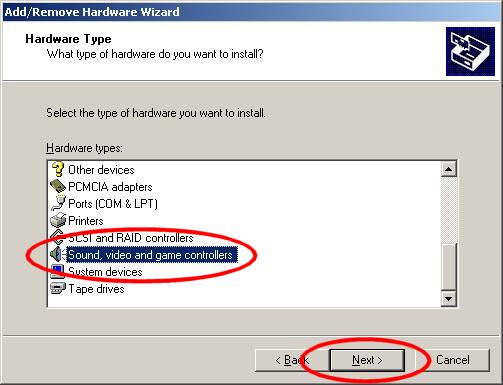 6) It is a Sound driver that we are installing...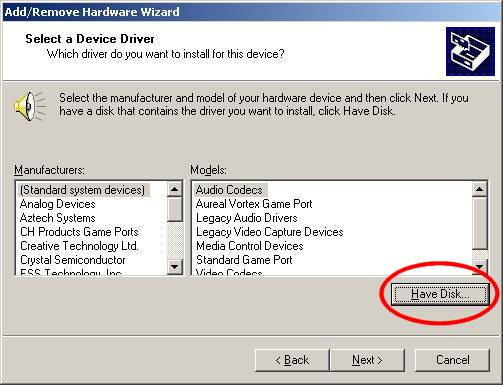 7) Choose Have Disk...
8) Browse... to the location where you have unzipped the Install files. You can unzip them to a diskette if you wish.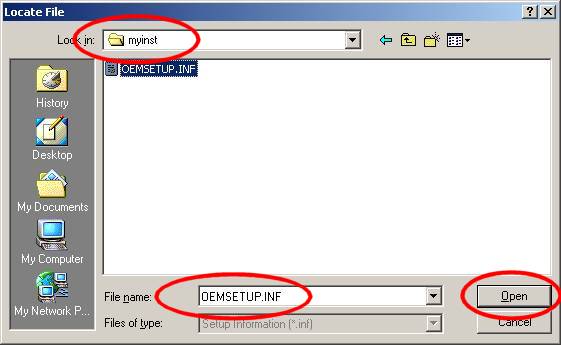 9) The myinst directory (above) is where I unzipped the files to. Your directory is probably different. Choose the OEMSETUP.INF file. Note: If your explorer is set up to hide extensions for known types, the dialog may only display OEMSETUP. Press Open...
10) Now the dialog shows your installation directory. Choose OK.
11) The installer has located the name, MIDI Yoke NT Driver from the .inf file and is almost ready to install. Press Next.
12) The installer is ready to install. Press Next.
13) MIDI Yoke NT preceeds any digital signature. The driver works pretty well for 1000's of users, but you'll have to decide for yourself. You will get this dialog if you have digital signature warnings turned on. If you have digital signatures required turned on you will not be able to install the driver, unless you change that setting.
[Editorial Note: I can't afford $400 (per year!) for a Digital Certificate from Verisign, or to pay several thousand dollars to Microsoft to have them test the driver, only to give it away for free. I think the industry needs to come up with a better solution for freeware/shareware authors.]
14) You might receive the above, if the Wizard is feeling particularly stupid -- then again you might not. If you do, just navigate it back to the driver location -- where the OEMSETUP.INF file is. You can usually use the dropdown combo box to locate it.
15) After pressing OK, the installer will expand the myokent.dl_ into the myokent.dll file.
16) The number of ports is now fixed at 8 (version 1.59). Press OK.
17) Success.

18) Done. Reboot.